Sansho Powder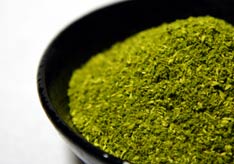 Japanese
山椒の粉
SANSHO NO KONA
[ Product specifications ]
To keep fresh and quality, we use a package with zipper
[ Ingredients ]
Sansho


[ Preservation method ]
Keep in fridge for the aroma


[ Expire date ]
1year


[ Net ]
10g


[ Price ]
JPY 864


[ How to use ]
Sprinkling just before eat
Suitable with Miso
You can have the product in a can, jar, wood container or professionally wrapped in thick paper.
[ Fresh Aroma ]
Are you using brown sansho?
Our sansho is fresh and green. Sansho is weakened by light and high temperature and it changes the colour if it has been sitting for a long time.
We also have sansho ground on a stone mill.