Shichimi Tograshi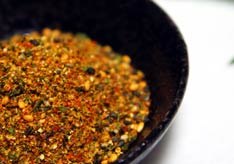 Japanese
七味唐がらし
SHICHIMI TŌGARASHI
Shichimi a profession that is carried on generation after generation in our shop, it has been our most popular product and makes foods pretty.
It is good for souvenir from Kyoto.
Product specifications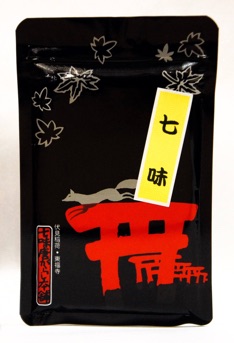 Mix them in front of you as fresh as we can and packing it with zipper
[ Ingredients ]
Chilli, orange peel, shiso, dried seaweed, sesame, hempseed and sansho


[ Preservation method ]
Keep in fridge for the aroma


[ Expire date ]
6months


[ Net ]
25g


[ Price ]
JPY 756


[ How to use ]
Sprinkling just before eat


You can have the product in a can, jar, wood container or professionally wrapped in thick paper.
[ Mixing ]
We mix them at your request and we also recommend standard mix if you are buying it first time.
Our standard is the best balance of aroma.
We can add extra chilli if you like spicy foods, also can arrange additional / less sansho or hempseed etc.